Press room
Kids Voted for Obama for a Second Term in the Kid-created Virtual World WOOZWORLD
WOOZWORLD Gathers PureViewTM Market Intelligence on Tweens' & Teens' Tastes, Trends & Behavior

CHICAGO, October 10, 2012 – In three separate polls, the kids chose Obama with an overwhelming majority. WOOZWORLD, a leading Virtual World and Social Network for kids, conducted "Kids-Only Surveys" to see whom they would vote for if the election was held today. Two surveys were held prior to the October 3rd Presidential debate, and one the following day.

Not only did the kids resoundingly vote for Barack Obama (60%), his popularity actually grew from the two previous surveys (pre-debate) where he had 56% of the votes. Romney still came in at a distant third with 19% of the votes, with "Other" beating him at 25%.

"We wanted to understand the impact of the debate on the kids and surprisingly, the votes shifted from the Undecided's (Other) to Obama," said Eric Brassard, President and CEO of WOOZWORLD. "Over 3100 kids spontaneously responded to our survey that ran over one day (25 hours). At the international level, Romney is still out of the running at 6%, with the real race between Obama (50%) and Other (44%)."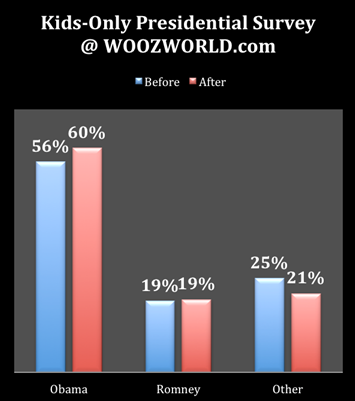 With about a month to go until the general election, WOOZWORLD will conduct regular polls to track the youth's opinion.

Disclaimer – The results of this survey in no way reflect those of WOOZWORLD or its employees. WOOZWORLD has no financial ties to the results of this survey.

About Woozworld

Launched in 2010, WOOZWORLD is one of the premiere virtual worlds and social networks for the youth. Kids spend on average 67 minutes per day in WOOZWORLD playing and socializing with their friends, as they continuously build a world they can call their own. With more than 14 million avatars and over 18 million virtual spaces (rooms) created by kids, friends get together to chat about what interests them: music, fashion, gaming and more.

To see the article on the Business Wire please click here

For more information: